If you are an MP, you may have heard of "Supporting the Three".  I wrote "Supporting the Three" in the Summer of 1982.
I enlisted as an MP in 1977.  I worked at both the Company and Battalion level. It didn't take long to realize that I really, really didn't like the Garrison/Law Enforcement aspect of MP duty, but loved the field duties such as Rear Area Security, Circulation Control and Convoy Security.  After two weeks in the field supporting the movement of Combat Arms units, the words to Supporting the Three just came to me one day while I was running.  I later wrote them down and fine-tuned various parts over the next few months.  I finally got the nerve to submit it to the MP Journal and it was published in the Summer 1983 issue.
As published in the MP Journal.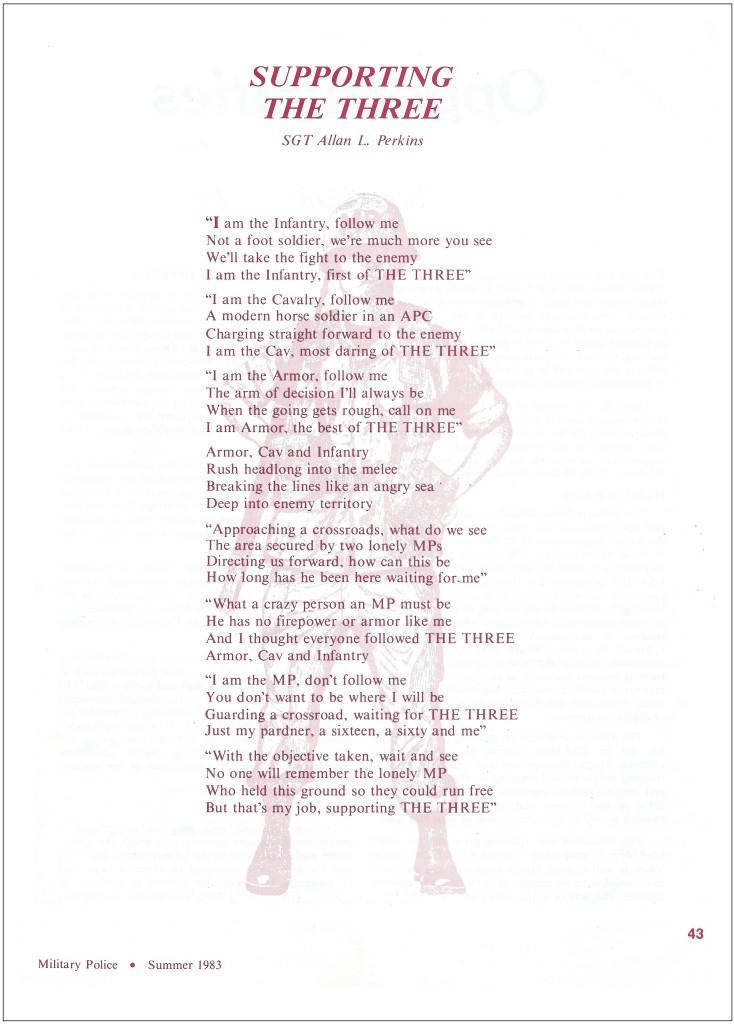 I never thought "Supporting the Three" was that big a deal.  I also didn't think it was that good.
In early 1983, I took a stab at writing something for the MP's that are saddled with Garrison Duty.  Not a poem, just a bunch of statements about MP Garrison/Law Enforcement Duty as I saw it.  I didn't have much experience in that area, so I was winging it.  I never liked this one, but submitted it to the MP Journal anyway.  I guess they didn't like it either because it was never published.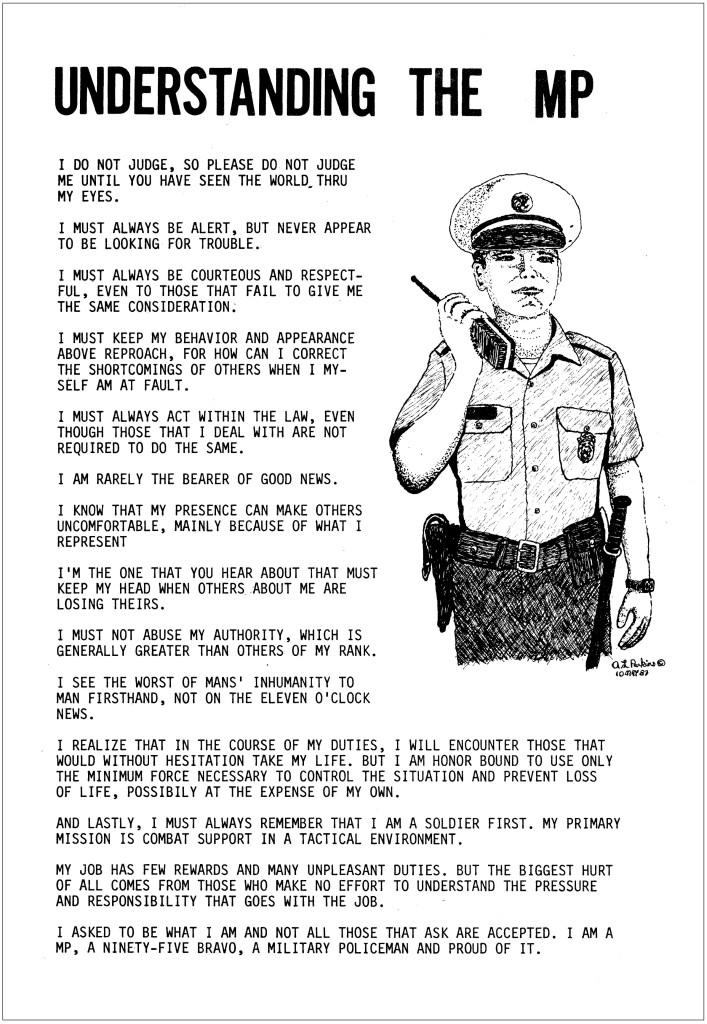 My last attempt at writing was in 1984 when I wrote "Mission First".   It was about an MP team performing Rear Area Security in a fictional Cold War type setting.  While patrolling an MSR, the Team discovers an enemy Airborne unit that had been dropped into the rear area as was Soviet Doctrine at that time.  The team sets up to delay the enemy force until reinforcements can arrive which was MP doctrine.  I submitted it to the MP Journal in late 1984, but they didn't publish it until the Fall 1985 issue because that issue had a Rear Battle theme.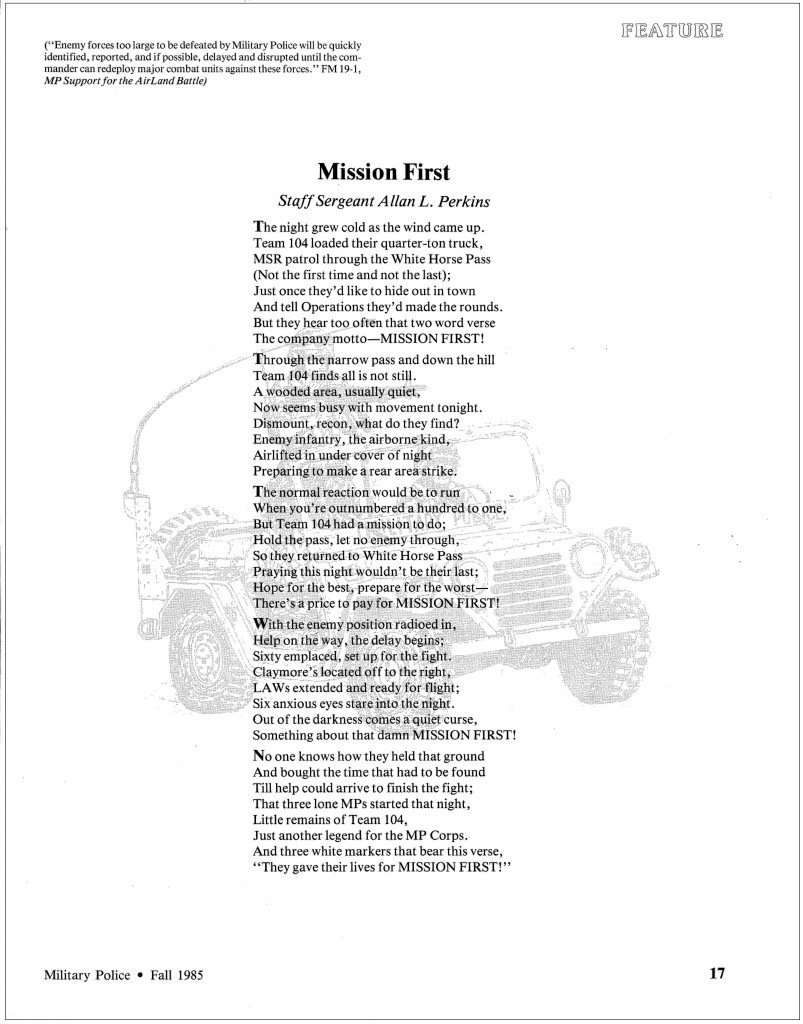 I always like "Mission First" better than "Supporting the Three".
I left the MP Corps in 1990 to spend the next 15 years in Armor and lost all contact with the MP Community.  I enjoyed being a field MP, but tanks are FUN!  A lot of work, a lot of maintenance, but a lot of fun.  Fast forward to late 2005.  With my career winding down and retirement on a distant horizon, I was given the opportunity to return to the MP Corps.  An MP Battalion deploying to Afghanistan to run a detention facility needed an Operations Sergeant, so I went.
I arrived in Bagram, Afghanistan in January 2006.  After a few weeks in the facility, I started getting MP's visiting my office to ask if I wrote "Supporting the Three".  I'd tell them yes, and then I'd ask them where they saw it.  Replies included:
Internet
MP Journal
Painted on wall of last unit
Printed on a poster at ANCOC
Printed on the back of the unit SOP
Had to memorize it during MP School
Copy included in new Units Welcome Packet
Printed on Graduation program from MP School
Printed on Dining-In Program / Read aloud during Dining In
Once word got around the facility, MP's started showing up at my office with copies of "Supporting the Three" for me to sign.  I ended up printing copies for each group that worked at the facility with their unit crest or unit patch on it.  Each copy was numbered and signed.  I used them as departure gifts for those that really pulled their weight during their time in the facility.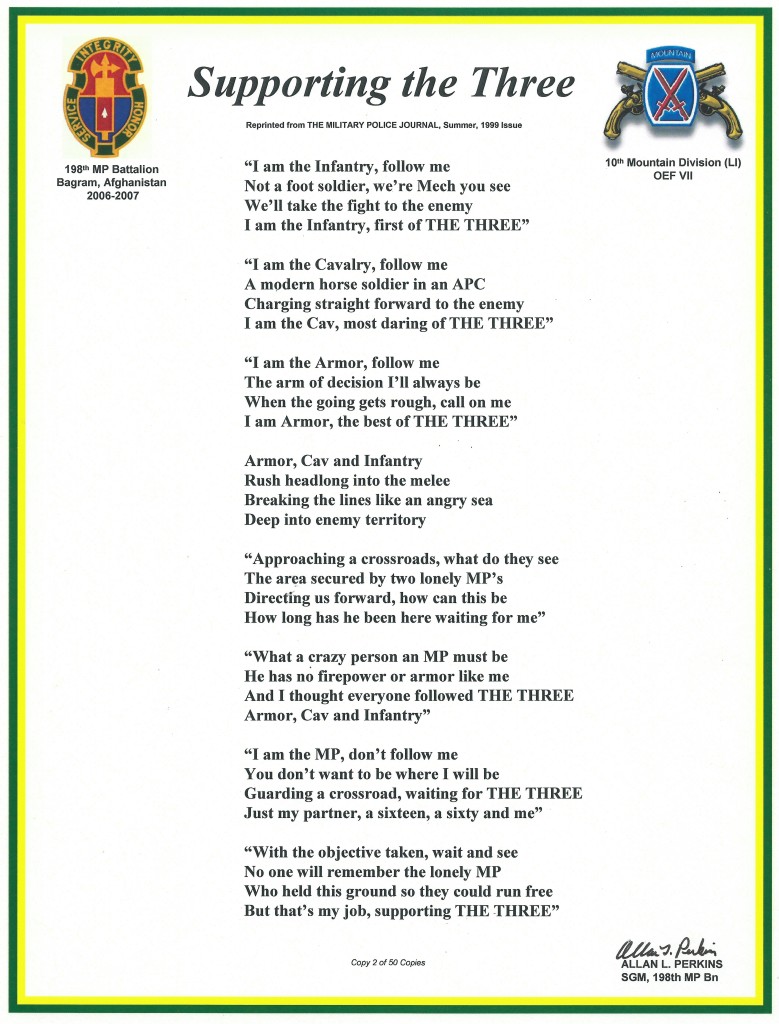 I had no idea that "Supporting the Three" had gotten that popular. Did some internet research and found that it had been published four more times in the MP Journal and once in the MP Regimental Association magazine.  It appears on many websites, both official military and individual.  Up until the time I lost access to my Army email account (AKO), I would get the occasional request for copies of it or permission to reprint it in Graduation Ceremony programs or a Dining In programs.  Regardless of the above, it's still not that big a deal to me.
Fun fact, the drawings the MP journal used with "Supporting the Three" and "Mission First" and the one shown with "Understanding the MP" were pen and ink drawings I had done a few years before.  I just picked out ones that went with the story.  If I can ever find the originals, I'll post some of them.  They're here in the house somewhere.
Another fun fact, the second line of "Supporting the Three" was originally "Not a foot soldier, we're Mech you see".  The Editor of the MP Journal at the time was unfamiliar with the term "Mech" for Mechanized Infantry and thought it was a misprint.  So they "fixed" it by changing it to "much more".  In the version above that I printed in Bagram, I changed the second line back to the original version.
Sometime in 2009, Dawn Phillips did a take-off on "Supporting the Three" called "Supporting the MP".  It can be found on the USAMPS (MP School) website.